European Market
Caravanning is the trend throughout Europe and new registrations of leisure vehicles are rising.
Caravanning holidays remain one of the most popular pastimes of Europeans. The European caravanning industry registered sales growth amounting to more than 4 percent in 2019. The more than 210,000 new motor caravans and caravans sold over the course of the year represent the second-best result in the industry's history. Sales in almost all national markets were up as well, and further sales growth is expected for the coming year.
2020 second best year for European caravanning industry
For the European caravanning industry, the extraordinary year 2020 was the second best in its history. A total of 234,843 vehicles were newly registered in Europe in the past twelve months – a value that was only surpassed exactly 40 years ago. Compared to 2019, new registrations rose by a strong 11.6 percent. This positive development was made possible above all by the enormous growth of the largest European market, Germany. There, new registrations shot up by almost a third and exceeded the 100,000 vehicle mark for the first time. Switzerland (7,842 vehicles), Belgium (6,582 vehicles) and Austria (3,967 vehicles) also saw more new vehicles registered in 2020 than ever before. All three countries had already set records in 2019. Developments in northern Europe were also very positive: the Danish market grew by 25.9 per cent, Finland's by 13.7 per cent and Sweden's by 2.5 per cent. In France, 32,041 new vehicles were registered with an increase of 1.7 per cent. The important British market shrank by 19.3 per cent due to the lower economic performance as a result of the Corona pandemic and the now completed Brexit. With 27,134 newly registered motor caravans and caravans, it is now the third largest market in Europe behind France. In Spain, which was hit hard by the pandemic and imposed strict Corona lockdowns, new registrations also fell to 7,837 vehicles (minus 4.4 percent). Surprisingly positive was the development in Italy, which was able to make up for the severe Corona slump at the beginning of 2020 in the course of the year and ended with a plus of 3.9 per cent.
Despite or because of Corona: record number of new motor caravan registrations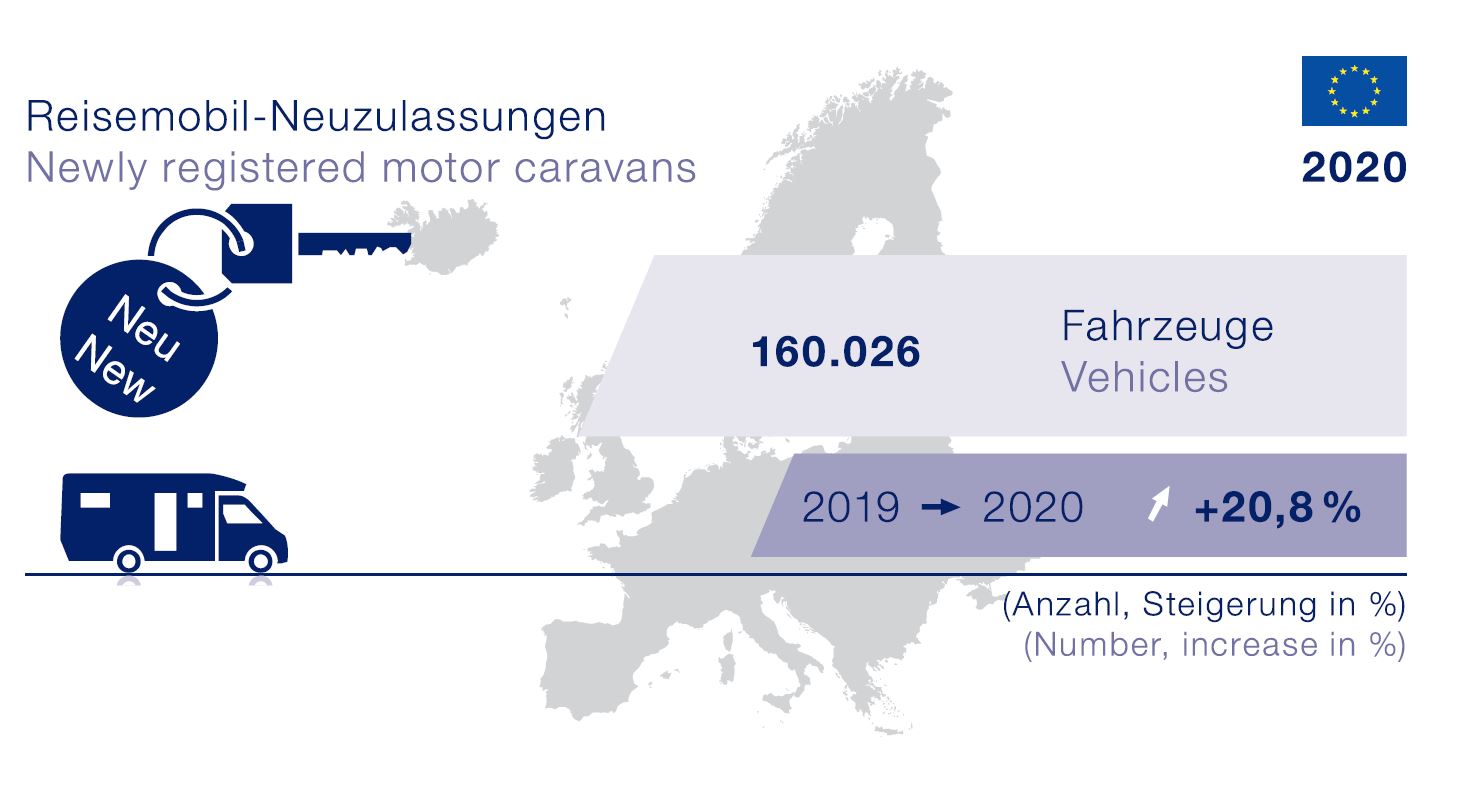 Source: CIVD analysis of ECF member reports, estimates, rounded
The motor caravan segment was again extraordinarily successful last year, growing by a strong 20.1 percent – despite or because of Corona – and reaching a new high. 159,082 new registrations mark the fifth record year in a row and represent a doubling of 2010. New motor caravan registrations rose in almost all European countries. In addition to Germany, the largest European market with 78,055 motor caravans, new records were set in Belgium (5,437 vehicles), the Netherlands (2,449) and Austria (2,969). New registrations also rose in France (24,961), the second largest market, Italy (6,527), Switzerland (6,351) and Denmark (1,298). Only the negative development in the important British market (minus 20.8 per cent), Sweden (4,011 vehicles) and Norway (3,384) slightly marred the fantastic pan-European result.
Europa: Newly registered motor caravans
| wdt_ID | County | 2019 | 2020 | Change % |
| --- | --- | --- | --- | --- |
| | County | 2019 | 2020 | Change % |
Source: CIVD evaluation of ECF member registrations
Demand for caravans in Europe slightly down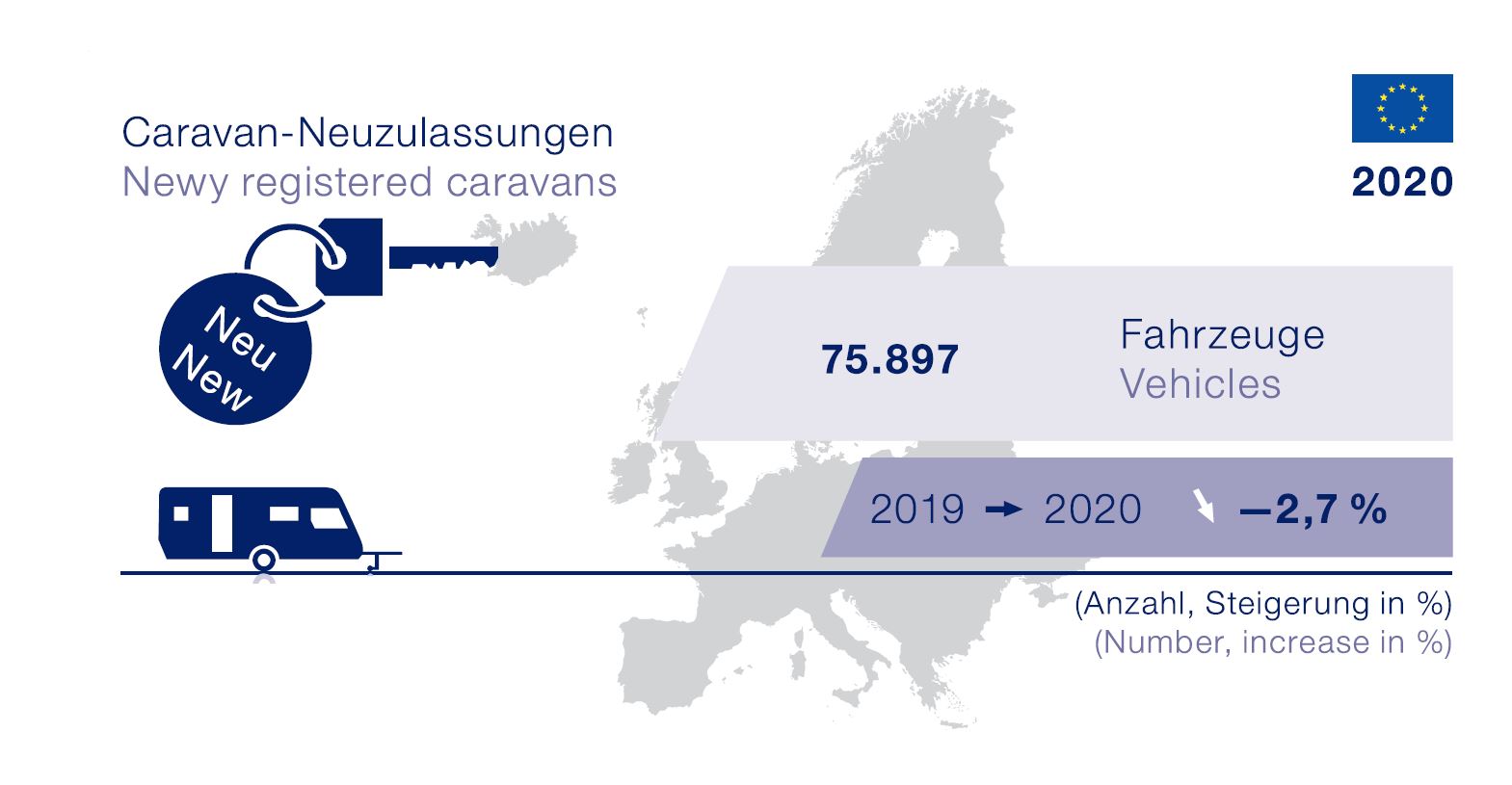 Source: CIVD analysis of ECF member reports, estimates, rounded
In caravan sales, the result is satisfactory overall with 75,761 new registrations and despite an expected minus of 2.9 percent. A closer look reveals a mixed result, but this is hardly surprising given the difficult situation regarding the pandemic and the economy in some countries. In the United Kingdom, the second largest market, caravan registrations fell by 18.0 percent to 14,977 vehicles. The now completed Brexit and its economic consequences probably also play a role here. France, the third largest market with 7,080 caravans, and number four, the Netherlands (6,948 vehicles), also declined. The pan-European balance sheet is mainly boosted by Germany (29,148 vehicles), the largest market, and the increases in the medium-sized Nordic markets of Sweden (plus 9.7 per cent), Denmark (plus 12.7 per cent) and Finland (plus 11.1 per cent).
Europe: Newly registered caravans
| wdt_ID | Country | 2019 | 2020 | Change % |
| --- | --- | --- | --- | --- |
| | Country | 2019 | 2020 | Change % |
Source: CIVD evaluation of ECF member registrations