Image Campaign
New image campaign brings uniqueness and multifacetedness of caravaning to life.
In October 2018, the new caravanning image campaign was launched, with which the positive perception of the holiday form is further strengthened and even more people are encouraged to discover holidays with caravans and motor caravans for themselves.
Due to its high reach, television is the best medium for attracting the greatest possible attention from caravanning-savvy target groups. The spots can be seen in the proven premium environments such as news and sports reporting on the public broadcasters. In addition, infotainment formats on n-tv as well as high-quality entertainment formats on the private channels Sat.1 and Pro7 will be added.
The TV commercials show unique holiday experiences that are only possible with a leisure vehicle. Sympathetic and unadulterated actors take viewers on an individual journey through the impressive and varied landscapes of Croatia and Slovenia and experience unforgettable moments – from adventure to relaxation. Thus, the facet wealth and the singularity of the vacation form are perfectly captured. The campaign motto "You can do everything. But you don't have to" sums up the unique selling point of caravanning – to be able to organise your holiday spontaneously and self-determined. Emotion and authenticity were the top maxims when developing the concept, which is why the campaign was implemented with a real family and real friends who are actually caravanning enthusiasts.
Increased focus on younger target groups
In addition to the classic caravanning target groups of couples over 50 travelling alone with a semi-integrated motor caravan and young families with a modern caravan, young active holidaymakers are now also being targeted with their own TV spot. Three friends in their mid-20s experience a thrilling, unforgettable holiday trip in a compact, sporty and agile van conversion.
Consumer portal caravaning-info.de and digital caravanning channels
The TV spots lead to the CIVD consumer portal caravaning-info.de, which offers all information about caravanning. Exciting videos, photos and travel reports ignite the desire for caravanning and offer experienced caravanning fans as well as newcomers tips and information regarding vehicles, destinations, vacation planning and useful accessories. With a few clicks interested visitors can find caravan and motor caravan dealers as well as information on caravanning fairs in their proximity. Here, members of the CIVD can present their company on their own sub-pages.
The advertising campaign is also presented on Facebook, Instagram and Youtube in an eye-catching and authentic way. The CIVD also maintains contact with interested consumers via a newsletter. The digital communication is topped off by significantly expanded online advertising, which appeals in particular to all those who cannot be reached via classic television.
Brand cooperations
The Caravanning Industry Association and its marketing company Caravaning Informations GmbH (CIG) regularly succeed in increasing the reach of the caravanning advertising campaign, reaching new caravanning-savvy target groups by cooperating with partners from other industry branches.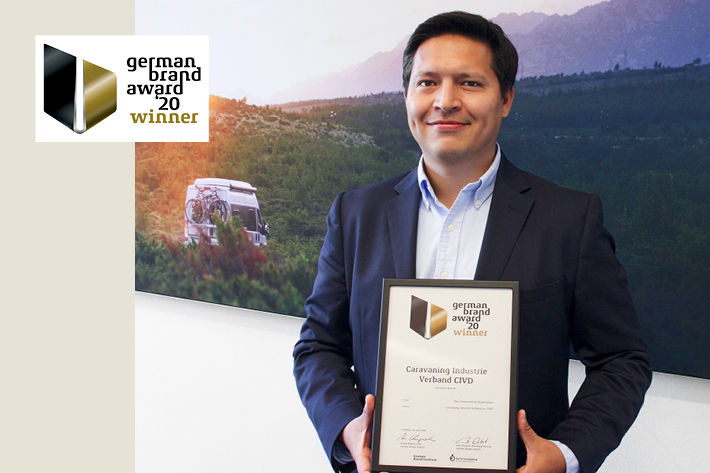 CIVD wins German Brand Award
The caravanning industry association CIVD has won the German Brand Award 2020 in the category "Excellent Brand – Non-Governmental Organization". The German Design Council awards the renowned prize to honour the best achievements in brand management and its effectiveness. With 1,200 submissions from 14 countries, the award was again able to achieve a great international resonance in 2020. The jury of independent, interdisciplinary experts honoured the image campaign, with which the CIVD advertises the holiday form of caravanning. Holiday with motor caravan or caravan stands for individual and self-determined travel. The fact that more and more people are becoming aware of this and that caravanning has experienced a positive image change, especially among younger target groups, is not least due to the industry's successful marketing activities.
The current campaign for which CIVD's Public Relations Committee develop a briefing that focuses on emotionalism and authenticity, is still running. However, the concept for a new one is already in the drawer since even the best advertising needs fresh impulses regularly. The GBA is an additional incentive to further develop the successful measures.