Worldwide Market
Self-determined and nature-oriented holidays enjoyed great popularity all over the world in 2018.
New registrations leisure vehicles
Worldwide new registrations of leisure vehicles and deliveries (America, Australia) declined slightly in 2018. In North America, the number of vehicles delivered fell by 4.2 percent in 2018. Nevertheless, almost two thirds of the global caravanning market are accounted for by North America. The European market, Australia, Japan and China, on the other hand, each closed the year with a plus. With over 200,000 new vehicles registered – a good quarter of all new registrations worldwide – Europe is the second-largest market.
New registrations caravans
Global new caravan registrations fell noticeably in 2018. Nearly 545,000 newly registered vehicles or vehicles delivered represent a minus of 3.4 percent compared to 2017. Only Australia and the small Japanese market recorded growth of 2.1 percent and 8.6 percent respectively. With over 422,000 deliveries and a market share of over three quarters, North America remains by far the largest market. However, in contrast to other countries, a large proportion of vehicles in North America are permanently inhabited and are not used for holiday and travel purposes. Europe is the second largest market with over 77,000 newly registered caravans. For 2018, the European market recorded a slight minus of 2.6 percent.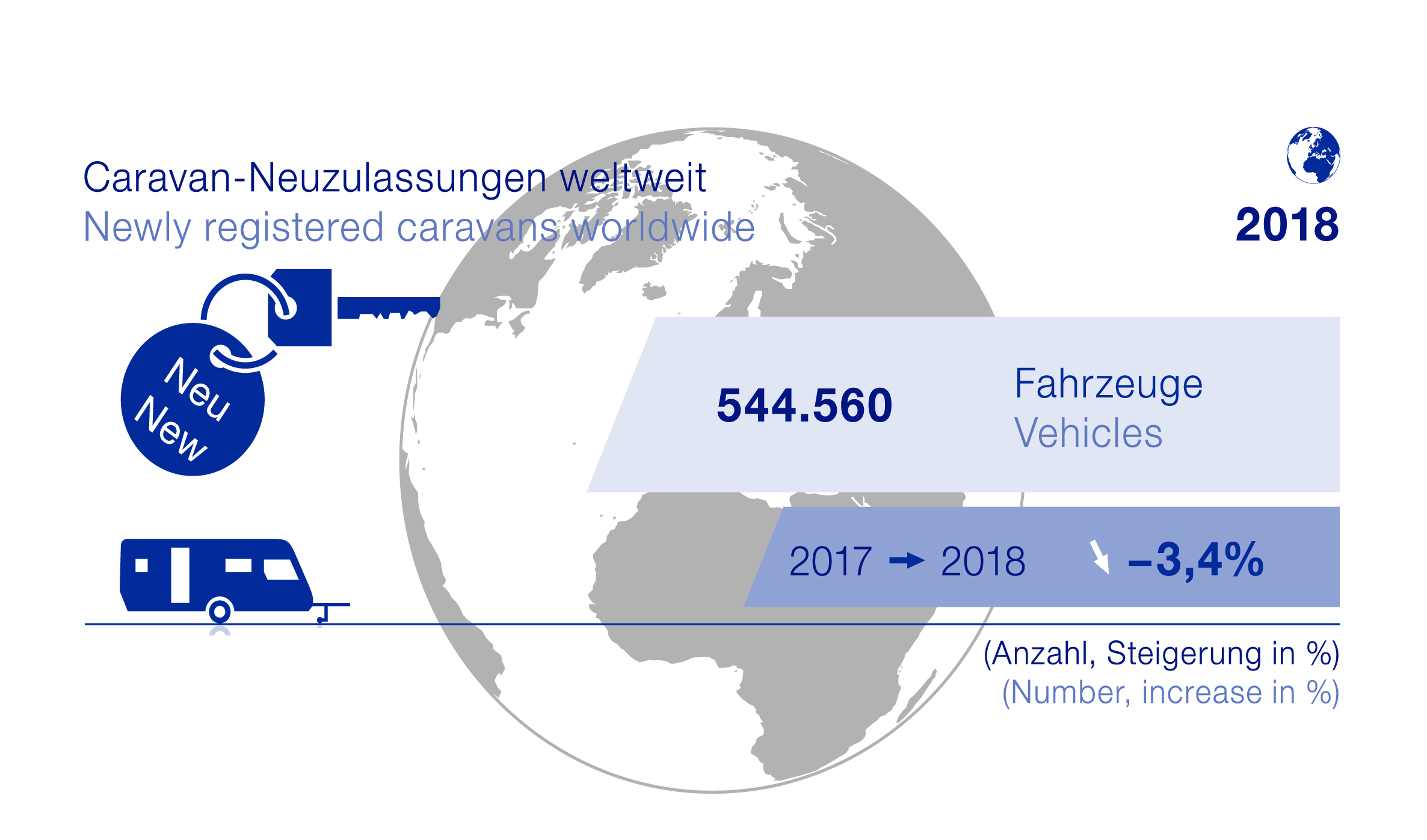 New registrations motor caravans
2018 was a record year for global motor caravan sales. New registrations and deliveries rose last year for the ninth consecutive year. 125,000 newly registered motor caravans, again more than half of all new registrations worldwide, are attributable to Europe. This represents not only a strong increase of almost 13 percent over the previous year, but also the best result in history for the European motor caravan market. North America remains the second-largest market with 61,450 deliveries. This represents a drop of 6.7 percent for 2018. At 38.9 percent, China achieved the highest growth rate of the previous year.