2019 another Record Year for the Caravanning Industry
Never before have so many caravans and motor caravans been newly registered as last year. The prospects for continued growth in the coming year are excellent.
New registrations of leisure vehicles in Germany rose by almost 14 percent last year, as the caravanning industry association CIVD announced at its annual press conference in Stuttgart. The nearly 81,000 vehicles that this figure represents have set yet another sales record. 2019 was already the sixth consecutive year of sales growth for the German caravanning industry.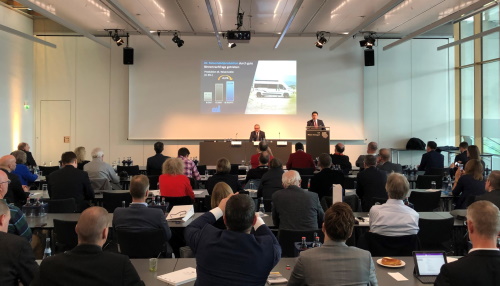 Annual CIVD Press Conference 2020, 13 January 2020, Stuttgart
Millions of Europeans excited about caravanning holidays
Caravanning holidays remain one of the most popular pastimes of Europeans. The European caravanning industry registered sales growth amounting to more than 4 percent in 2019. The more than 210,000 new motor caravans and caravans sold represent the second-best result in the industry's history. Sales in almost all national markets were up as well.
German manufacturers with record production, skilled workers needed
The German caravan and motor caravan manufacturers ramped up their production in 2019 for the sixth consecutive year. A total of almost 125,000 vehicles rolled off manufacturer assembly lines – a record annual figure. Foreign customer's demand also remains high with over 51,000 vehicles being exported in 2019. In order to meet this high demand, manufacturers and their suppliers are expanding their production capacities and are looking for skilled workers, trainees and career changers, especially with technical and manual skills.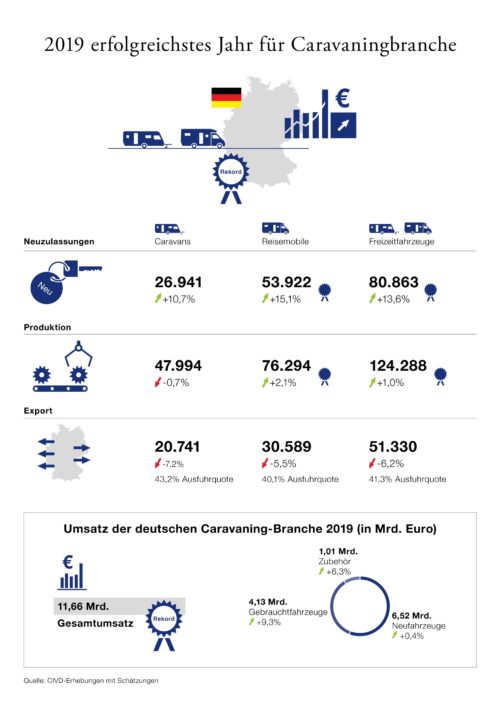 Record sales – all sectors achieve surplus
In 2019, the German caravanning industry achieved sales amounting to nearly 11.7 billion euros and achieved the best result in its history. This figure represents almost 4 percent sales growth. Sales growth was registered in all three sectors of the industry – new vehicles, used vehicles and accessories. This was the sixth consecutive year of record sales for the industry.
Prospects for 2020 good, also for exports
This has put the German caravanning industry in an optimistic frame of mind in terms of the coming year. The manufacturers are anticipating continued sales growth in Germany, along with solid export sales.